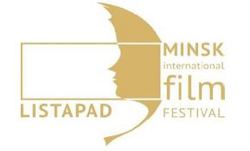 MINSK INTERNATIONAL FILM FESTIVAL "LISTAPAD"
PRESS-RELEASE


Minsk, 14.08.2018 www.listapad.com
25th Minsk International Film Festival "Listapad" will be held from 2nd till 9th November
The main film event in Belarus Minsk International Film Festival "Listapad" will celebrate its quarter-century anniversary in November.
Competition programme of MIFF "Listapad" includes 4 sections:
Feature films

(Main Competition and Competition of debut films "Youth on the March");

Documentaries

(Main Competition and National Film Schools Competition);

Children and Youth Film Competition "Listapadzik"

;

National Competition

(includes feature films, documentaries and animation).
MIFF "Listapad" brings the world's best films to Minsk. MIFF "Listapad" presents the best films from all over the world. Main Competitions of the Festival focus on new films created in former socialistic countries, including CIS countries, Central and South-East Asia, Baltics, Eastern and Central Europe. The best works from the region recognized by the most prestigious festivals in Europe are competing for the main award of the Festival. "Youth on the March" Competition presents a collection of debut works from directors all over the world, acknowledged by cinema professionals and audience.
At different times, Minsk Film Festival has had as guests Fanny Ardant, Claire Denis, Andrey Zvyagintsev, Emir Kusturica, Krzysztof Zanussi, Brillante Mendoza, Denis Côté, Sergei Loznitsa and other film figures. About 40,000 viewers and more than 100 guests from around the world attend MIFF "Listapad" every year.
Industrial Platform Bel:Cinema events are held within the festival aimed at communication between the cinematography professionals, experience exchange, and development of means of cooperation between filmmakers and producers taking into account specific features of regions.
The founders of the Minsk International Film Festival are Ministry of Culture of the Republic of Belarus and Minsk City Executive Committee.
In order to work at Minsk IFF "Listapad", media representatives need to apply for accreditation.
---
The accreditation badge grants:
---
admission to film screenings (by appointment);

access to and participation in festival events (meetings with filmmakers, lectures, master classes, discussions, Industrial platform events);

permission to ask for comments and make exclusive interviews with festival guests.
---
The accreditation badge does not guarantee:
---
obtaining an Opening or Closing ceremony invitation card;

admission to evening film sessions at the main festival venues.
To be granted an accreditation to cover the 25th Minsk IFF "Listapad", it is necessary to submit an application form till September, 30.